I was very much looking forward to this book, like all the others in the On Dublin Street series, despite the fact that
Moonlight
will be the final book in the series. Before I finished the first chapter, I thought to myself "This book is utterly delightful."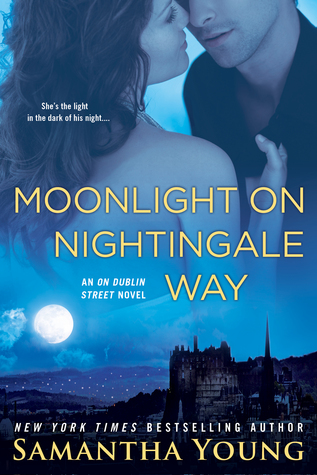 We met Logan in
Echoes of Scotland Street
through his sister, Shannon. Logan served two years in jail for putting her ex boyfriend in a coma after Shannon came to him bloody and broken from yet another beating. Logan had no idea that Shannon was suffering from domestic violence and his guilt from not being able to protect his sister from just made my heart melt. Fast forward to
Moonlight
and Logan is out of prison, head of security at one of Braden Carmichael's clubs, and going through women by the dozens. Unfortunately for Logan's neighbor, Grace, she knows just how happy the women are as their moans, screams, and overall pleasure come right through his bedroom wall to hers. They start out as tense neighbors with some under the current sexual tension, but end up united when a young teen named Maia shows up with Logan's eyes claiming to be his daughter. Grace immediately feels a kinship to Maia and the two become close as Logan navigates the new world of fatherhood. Through Maia, Logan and Grace include her and become an unlikely trio. Logan and Grace get closer and become more attracted but are still not exactly sure about where they stand with each other.
The delicious tension and hot chemistry between these two is so fun to read, but at times heartbreaking as well. Grace and Logan both have complicated histories with their families, and this brings them closer together. Their chemistry is apparent from page one and doesn't end. Logan is a big, strong, good man, despite his brutish behavior towards Grace at the beginning of the book. Grace is a sweet, fragile, but extremely strong woman considering what she dealt with during her formative years. These two are a perfect match. Logan is sexy as sin and Grace is his provocative counterpart.
This was a beautiful ending to a great series and if you haven't read this series yet, what are you waiting for?