I'm reviewing these two books together since I binge read them pretty close to each other. 5 star reads, both of them, just to get that out of the way. I'm surprised I feel that way about Filth, but when we get there I will explain why.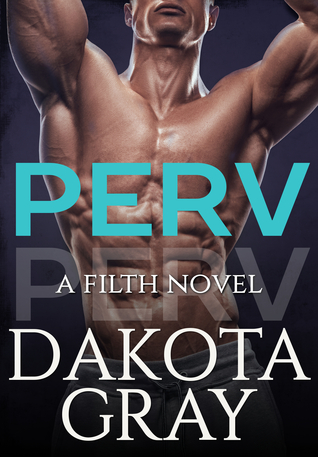 In Perv we meet Nate. Nate is a kinky, dirty guy with southern charm and good looks and a serious devotion to the most intimate part of a woman. The problem? He meets a mysterious woman at a bar who rings alllllll of his bells. Then she cuts him down and walks away without a second glance, in the name of revenge.
Nate can't get her out of his head, and pursues her like a mad man. Over the course of the book we learn that Robyn is the name of the beautiful, mysterious woman, and her best friend fell in love with Nate despite his honesty in telling every woman he is with that he isn't the settling down kind of guy.
Their courtship, as it were, is angry, kinky, pervy, but heartfelt and actually very sweet. In a landscape of formulaic romances, a subversive read like Perv stands out in the best way. Kudos to Dakota Gray for such a well written sexy but sweet series. I'm a new fan! Nate and Robyn both have more layers and depth than one would think at first glance, which brings me to Filth.
As a rule, I am not a fan of "tell it from the other person's POV" stories. Typically it's rehashed information, and my investment in the characters demands new insight, new angst, and new scenes of interest. While Perv is Nate's story, Filth is Robyn's. I one-clicked it without reading the synopsis, and I'm glad I did. Nate's world is vastly different than Robyn's, and their story was big enough that they deserved separate treatments.
Robyn's conflict in falling for Nate and breaking the "girl code" among other spoilery things I won't mention here are so well addressed and written beautifully.
The best part is that we are getting more books from Dakota Gray in the Filth series! Nate's friends get the HEA treatment, and my review for Hardcore is coming soon.