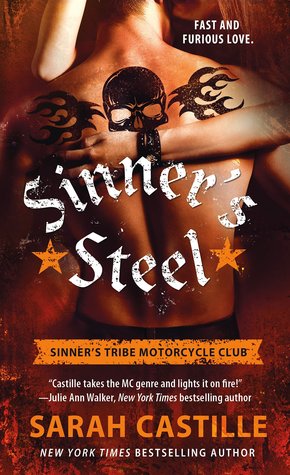 The Sinner's Tribe MC is back with the most enigmatic of their members finally getting his story told. Zane has always been derisive about love and in this sexy second chance romance, we find out his history at last!
Sarah Castille has written another fast paced and gritty story featurinng Evie, a single mom who has been in love with Zane since she was a teenager. Best friends as kids, Evie, Zane, and Jagger were just heading towards making the decisions that would shape their adulthood. Jagger was going into service; Evie was soon heading to college but was a little younger than the boys; Zane only knew he didn't want to follow in his father's criminal footsteps and he wanted to be with Evie. The best night of Zane's life turned into the worst as he won and lost Evie in a matter of hours. When he went back for her, it looked like she had moved on.
Meanwhile, Zane is the only man Evie ever loved, and seeing him so many years after waiting for him to come back to their hometown was jarring to say the least. Now that they are in the same city, Zane has decided that she is his, which is complicated because she is kind of dating Viper, the President of their arch nemesis MC.
I basically read this in one sitting. Between the secrets, lies, and sexy times, I soaked it up and went back back for more!